GLENDALE, Arizona –
Taylor Swift stood on stage at State Farm Stadium, bouncing light off her dazzling leotard and taking in the sounds of the 70,000 or so fans in front of her.
"I don't know how to process all this and how I feel right now," she said. "I can't even get into how much I've missed you because there's no way to put it into words."
How fast could be put into words on Friday night as she stepped off the Eras tour — her first roadshow since 2018, since the start of the pandemic, since the release of four separate studio albums (and re-recorded versions of two older LPs) — was how this whole thing would to go. "Tonight we're going on an adventure," she told the audience. "We're going to explore the past 17 years of music that I've had the privilege of making and that you've been kind enough to provide."
Which, OK, sure – that's how tours of famous and beloved pop acts work. And yet this show actually felt like a new experience, with a whopping 44 songs from all 10 of Swift's studio albums spread over three hours and 15 minutes in several chapters. Each section had its own costumes and color scheme: that sparkly pink leotard (and matching boots) for 2019's "Lover," for example, and a flounced ballgown for 2010's fairytale "Speak Now." For the portion of the concert that was dedicated On "Red," the 2012 breakthrough that propelled her to superstardom, Swift, 33, wore a version of her T-shirt from her "22" music video, alone instead of reading "NOT MUCH HAPPENING RIGHT NOW ," it read, "MUCH HAPPENING RIGHT NOW" – a subtle but meaningful adjustment meant to flatter the attentiveness of the home's many eagle-eyed Swifts.
Indeed, Friday's production rolled out as fan service of the most thorough and comprehensive kind. "We have a lot of time for me to try and sum up how I feel about how much I missed you and how happy I am to see you," Swift told the crowd at one point, doing what she could to repay a sense of demand so intense that Ticketmaster crashed when tickets for the 52-date tour went on sale last fall. (Swift is slated to wrap up the tour with a five-night stand at Inglewood's SoFi Stadium in August.)
But the concert was also a showcase of the range and versatility that have made Swift the most successful singer-songwriter in an era defined by hip-hop. She delivered yearning acoustic ballads like 'Lover' and 'Enchanted', her voice high and captivating; she blasted through sarcastic electropop numbers like "Look What You Made Me Do," "You Need to Calm Down" and "The Man," the latter a sly commentary on restrictive gender roles played out on a set designed to look like a office.
Accompanied by a band featuring four backup singers, she dove into the intricate bedroom folk sounds of her double pandemic LPs, "Folklore" and "Evermore," singing "Invisible String" from a mock-up of a mossy forest cabin. Flanked by dancers, she went big and shiny for the one-two punch of "We Are Never Ever Getting Back Together" in "I Knew You Were Trouble," then went even bigger and shiny for the portion of the show dedicated to "1989 "Midnights," which broke a number of sales and streaming records when it came out in October, got one of the longest sequences of the night as Swift strung together seven of its bland R&B-adjacent songs, including " Lavender Haze," "Midnight Rain," and the Hot 100-topping "Anti-Hero," in each she smeared the edges of her voice, using it for both texture and narration.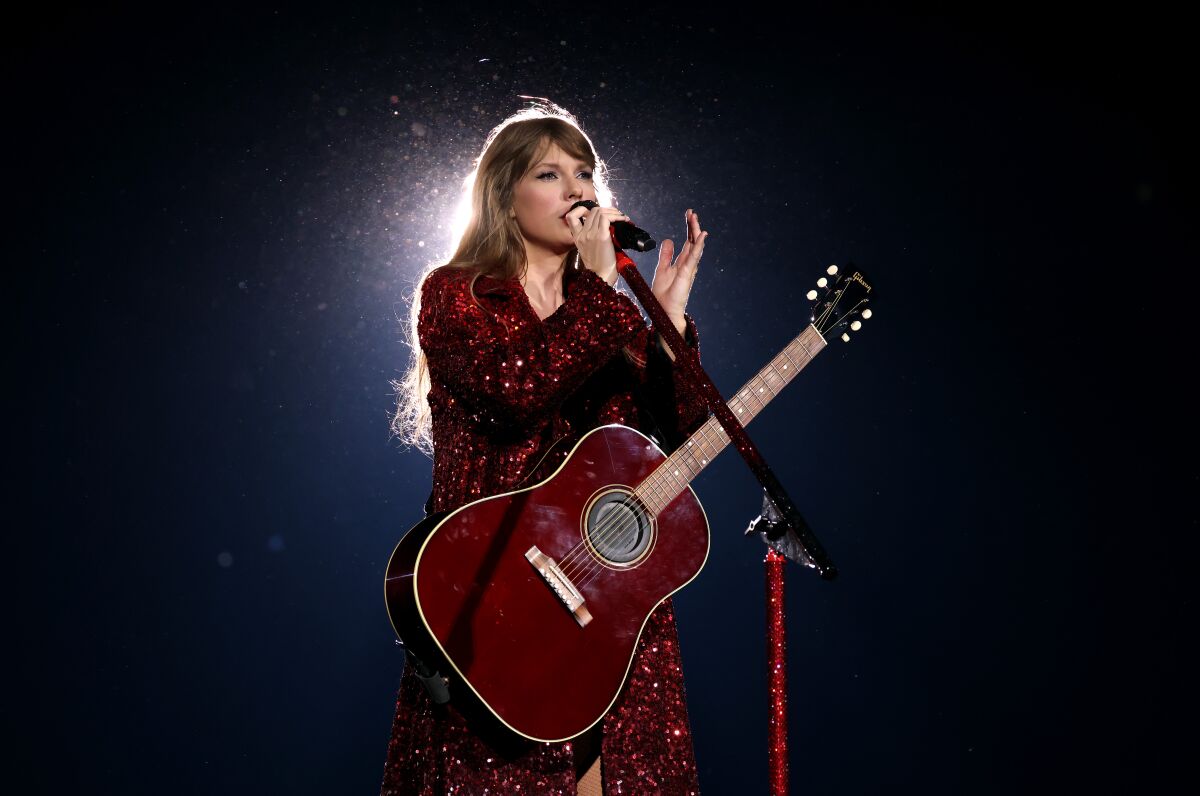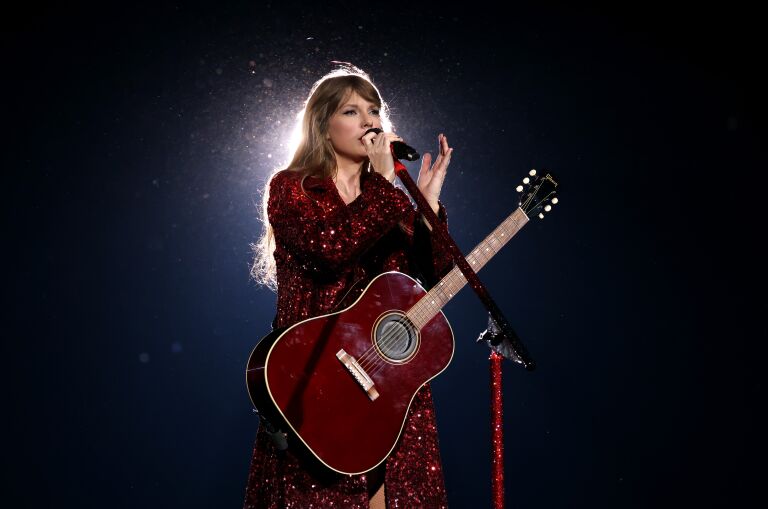 Her approach to photo albums inevitably tapped into the nostalgia of an audience that grew up with Swift. "Ready to go back to high school with me?" she asked for a sweet rendition of "You Belong With Me" from 2008's "Fearless" — one of the first LPs she recently recreated in a clever campaign to reclaim the financial rewards of music whose ownership is a changed hands a few times. She later reached even further into history for the heartbreak "Tim McGraw," her first single as a teen country phenom, which she performed here on a flower-painted piano. (The piano was on a small secondary stage at the end of a runway that jutted out onto the stadium floor, where Swift also did an unplugged-style version of "Mirrorball" in a slot she said she used every night of the tour.)
But at best, Friday's show complicated the emotional denouement that comes with the performance of a great pop song. The climax of the concert came almost exactly halfway through a passionately determined run through the epic 10-minute version of Swift's song 'All Too Well' which arrived in 2021 during her re-recording of 'Red'. On the album, "All Too Well" carefully sifts through the rubble of a youthful romantic relationship with the wisdom of a few years in hindsight. But on stage here, chopping away on an acoustic guitar while clad in a shimmering floor-to-ceiling robe that gave her an almost wizardly feel, she turned the song into something of a treatise on youth itself—on the illusions you can get into. the pursuit of a happiness that never lasts.
Talk about a lot going on right now: she had promised a trip back through her past and instead delivered a dismantling of it.